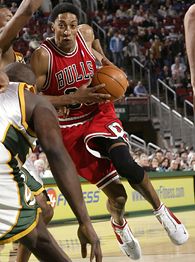 Scottie Pippen wants to return to the NBA, preferably to "a contender that could make use of his experience in a playoff run." He says he's in good enough shape to play and is willing to sign a 10-day contract to prove it.

Pippen said,

Being out of the game, my body feels great," Pippen said, adding that his body fat is at an all-time low 5 percent and he's at his top playing weight of about 220 pounds.Taking this break, it feels amazing. I'm looking at somewhere I could play maybe 15 minutes. I'm not trying to be a big-money guy or anything, [just trying to] get with a team I can help in the playoffs.My knee is good, Pippen said. I've been working out regularly, doing drills.
The sure-fire Hall of Famer says he is banking that there's a playoff contender out there that in need of some veteran leadership. Let's review some of the contenders:
1. Dallas Mavericks - Somehow I don't think Mark Cuban is going to sign a charity case in need of another ring. He already has the deepest bench in the league.
2. San Antonio Spurs - They already have a former champion, 40-something old guy in Big Shot Rob. Hell, their entire roster is old.
3. Phoenix Suns - With the injuries adding up and not having the deepest bench among the elite teams, maybe Phoenix. There might be a Charles Barkley connection here.
4. L.A. - Phil Jackson? Kobe? Fuggidabouddit.
5. Cleveland Cavaliers - Also a thin bench, maybe. These guys could use their own version of a 'Big Shot Rob'.
6. Detroit Pistons - I'm letting the contenders list end here. I just don't think that with the departure of Big Ben to Chicago, that Detroit will seriously contend for the title. They also tend to get a bit dysfunctional under stress. If I were Scottie, I'd stay the hell away.
I'll pick either Phoenix and Cleveland as possible but remote destinations.