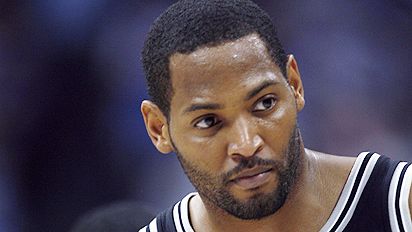 Last night Robert Horry put game 4 of the Spurs/Nuggets series away with yet another cliched clutch three pointer. Can a guy get into the Hall of Fame with 6 rings, countless clutch shots, and no All-Star Appearances? Let's look at his resume (courtesy Wikipedia):
"He is second on the all-time list of three-pointers made in the playoffs, behind only Reggie Miller, which is an amazing feat for someone of his height. He also holds the record for three pointers all-time in the NBA Finals, passing Michael Jordan's previous record of 42, and finished 2005 with 53 career Finals 3-pointers.
Horry collected his sixth championship as a member of the Spurs in 2005. That year he joined John Salley as the only players to win NBA rings with three different teams. Horry has also played in more NBA playoff games than any player except Kareem Abdul-Jabbar, having passed Scottie Pippen for 2nd place during the 2006 NBA playoffs. He joined Abdul-Jabbar, Jordan and Pippen as the only non-Boston Celtics to be on six championship teams.
He holds an individual NBA Playoffs record for most three-point field goals made in a game without a miss (7), against the Utah Jazz in Game 2 of the 1997 Western Conference Semifinals."
If and when Robert Horry decides to finish his NBA career, he could have SEVEN rings over a 14 year career (don't kid yourselves, the Spurs could win it all). I'm thinking HoF.